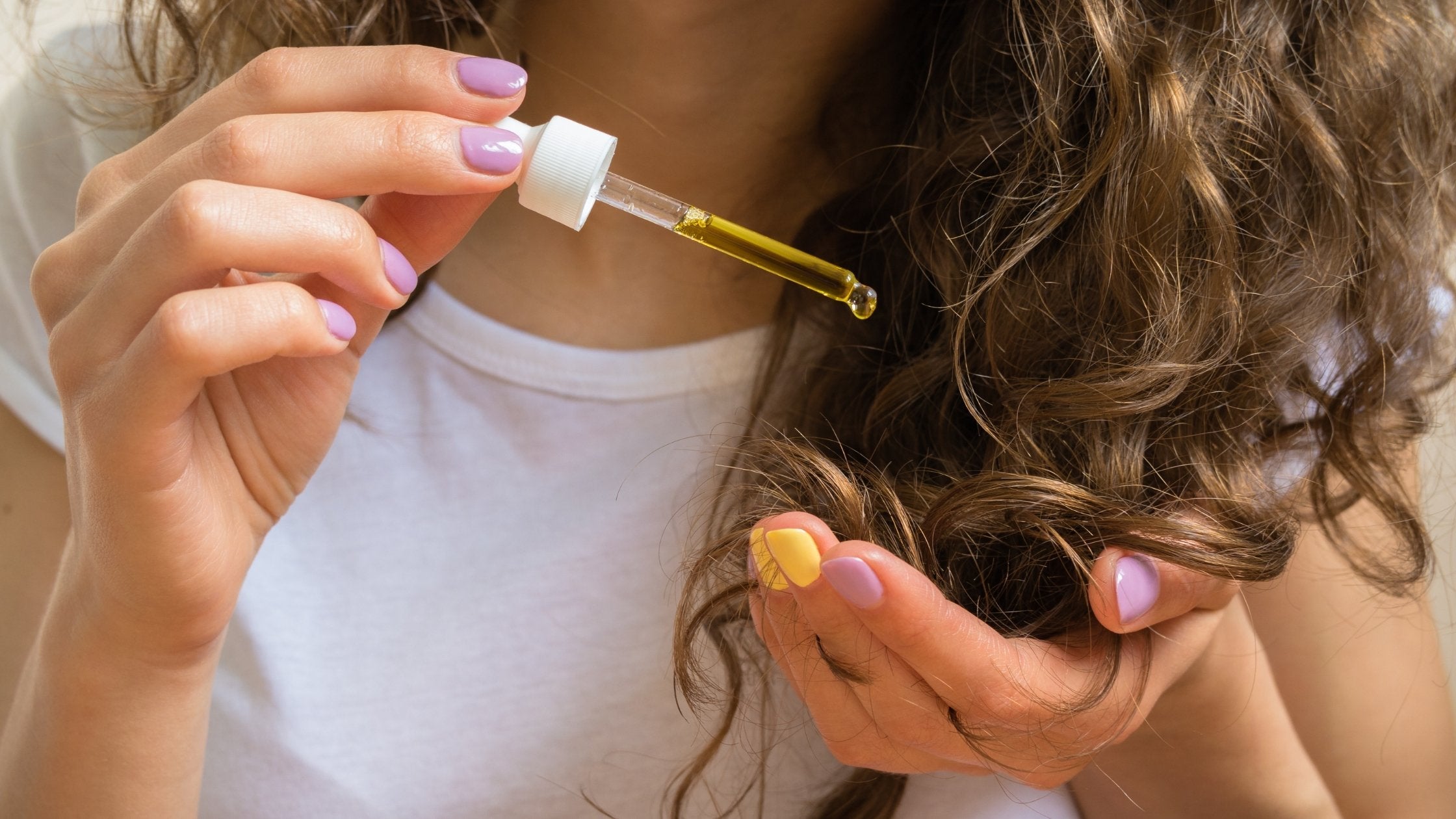 Hair Oils: An important part of your hair care regimen you might be missing
Oiling hair is a ritual that's core to the Indian beauty culture. For ages, grandma's secret recipe is preserving our luscious locks but now the onus of playing the white knight lies ahead upon us. In a fast-paced world, we are not giving hair care the priority it deserves. Rushed and modern routines can be great — tons of activities to do, late-night food spots, and total convenience — but it could also be taking a toll on you and your hair. Premature greying and other hair concerns usually makes us buy packaged products that promise wonders but the truth is that commercial products are supposed to help but they just don't. What is the safe escape then? You may ask. Befriending with nature would be the best bet in this case. Instead of going for instant treatment, it's wise to devote some time to the health of your hair. And for that, we can't think of many things better than the good old hair oil.
While everyone these days is talking about slow fashion and slow food, we are wondering why not slow beauty? Let's take a trip down memory lane, try and recall the times when at the end of any summer our grandmother used to massage our hair from the naturally formulated hair oils. As we are discovering many more tried and- tested natural secrets, we are trying to find our way back to roots and learn to live in tandem with nature.
Traditionally we had oiled our hair every time before we washed it and oiled after a wash too. And even today, we oil it at least once a week. But, the idea of oiling your hair twice a week seems old school, right? Wrong! A gentle oil massage stimulates blood circulation and enhances the quality of the scalp. If face oils are new beauty must-haves, why shouldn't you oil your hair too? One of the best ways to get healthy, long, and thick hair is to sit back and enjoy a nice hot oil massage.
Why do you need a piece of blog advice for hair growth oil?


Oiling is the best way to pamper your hair and who on the earth does not like pampering? A blog will help you in this process of self-pampering. If you're the one who's done with all those false claims and is looking for something worthy then this blog is the one you've been searching for!
If you ever had healthy hair on your scalp, that is now fading in the race of the city that never sleeps, then we will give you a hundred reasons to thank your grandma's hair oil recipe once again.
From time immemorial, oiling the scalp has proved to be immensely beneficial to the health of hair. This blog will unfold the double benefit of the best hair growth oil that is customized just for your hair.
We have compiled the million-dollar hair oiling tips that can suit hair of all types, oily hair, or dry hair. This write up will give you the best tips for your unique hair
Most women's self-confidence is tied to the state of their hair. This blog will definitely help you in gaining more confidence in yourself and your hair.
People are becoming more conscious about what they're putting on their bodies. In this blog, we will take you to nature's ride of finding the secret hair oil.
So now that you know that hair oil serves as an easy and economical solution to a plethora of hair woes such as frizziness, dryness, split ends, etc. Why not dive into the pool full of benefits of hair growth oils. Sounds pretty great and doable, isn't it?
Benefits of Hair oil for your Gorgeous hair, Unravel the magic of Oiling



There is a widespread perception that natural beauty products are somehow inherently better than the synthetically made products. And, in lots of cases, that's the truth. Massaging your hair with hot oil not only increases blood circulation in hair follicles but also stimulates hair growth. Oiling is the best thing you can do for your hair and doing that regularly gives your hair the essentials it needs. There are millions of varieties of hair oils and they all have some purpose to serve. Each oil benefits your hair in some way or another. All you need to do is figure out which form of oil suits your purpose well.
Oil is the protective shield:
Oil creates a protective shield against all the odds of the sun. Hair becomes extremely brittle due to prolonged exposure to UV rays. Oiling your hair in summer creates a shield to protect your hair from sun damage.
Champi a day keeps the stress away:
This may sound bizarre but massaging your hair with hot oil boosts blood circulation in the scalp. During the hair massage process, hair oil spreads evenly around the scalp, sending nutrients directly to all the hair roots. Just a couple of minutes of oiling are good enough to relieve your mind of too much stress.
Oil is one step ahead of your hair conditioner:
Hair oils provide the optimum hydration to keep damage at bay. A shampoo-conditioner, no matter how good its components, can't match the way hair oil goes deep into the skin and does its job revitalizing the skin tissue.
Hair oils are packed with nourishing fatty acids that replace the lost lipids in one's hair. Oiling strengthens hair from the roots, making it stronger and avoids breakage. Hair growth oils not only help with hair re-growth but also improve its volume and thickness.
Oil is the biggest enemy of your grey hair:
Premature greying has now become a recurring problem in youngsters. It usually takes place as a result of vitamin B12 deficiency. Oiling regularly gives your hair the essential nutrients it needs, thereby preventing premature greying. Hair oil gradually restores hair color and thus, delays the greying process
Hair oil is a great way to control frizzy hair If getting rid of dry, frizzy hair is your major hair goal then hair oil is your thing. In summer, hair tends to get very frizzy, dry, and lifeless. On days when your hair seems all out of control and frizzy, rub some hair oil on your palms and run through the hair lightly.
Hair oiling prevents Dandruff:
Dandruff makes its home on a dry scalp. A dry scalp is prone to stretching and breakage. It causes itching at the roots, thereby inducing hair fall. Oil massage prevents your scalp from drying off, thereby preventing dandruff.
Oiling provides wonderful Gloss to your hair
Damaged and weak hair is not any girl's dream. Everyone wishes to enjoy long, shiny, and voluminous hair. One of the best ways to make this dream of yours come true is oil. Ritual of massaging hair at least once a week if not daily, nourishes hair from within, thereby making them shinier on the outside.
Are they worth the hype; Do hair oils actually work ?
Between your Hair regimen of paraben and sulfate-free shampoo, your conditioner, and rejuvenating hair mask, what more could you need? Look Carefully! you have left out one key component, and a crucial one, that is Hair oil. While you may have skipped over them on your list of "hair care needs," this is the time recalibrate.
Not sure if hair growth oils actually work or is it a scam?? Long story short: Some oils are a gimmick and have negligible to Zero impact on your hair But there are some oils that can actually help you with your hair problems .​
The Components of every hair growth oil is different and whether it has a chance of working or not depends on its ingredients and your consistency. Since ancient times, oiling has been used as a means to enhance hair health. It gives your hair strength, relieves your scalp of bacterial and fungal infections, and prevents your hair from premature greying. Among all the hype some ingredients can actually help your hair grow.
Still, wondering?
Then you need to give it time. Remember, even if you are using a product designed as per your hair needs, the results are not going to come out swiftly. Hair grows at 0.5 inches a month on average and hair growth oils work for hair from scratch. Most research and experiment shows that most products tend to show results over a 2 to 6 month period- Yes, that is long. But no lies, no product does overnight magic. You can start experimenting with hair oils to accelerate hair growth. This is the perfect time to harness the hair-growing properties of these oils to help you hit your hair goal faster.
Besides the Time factor, If you really want your hair oil to work upon you then you have to become an ingredient detective. flip it around to the back of the bottle and look for the ingredients. If you've looked at the lists and are still not sure, you can ask our experts any questions in the chatbox.
How often should you oil your hair?
When nothing worked oiling came for your help. Admit it! Our hair needs to be nourished just like our skin does. While eating healthy foods can boost your mane's health, oiling is equally necessary for your hair.
But the question is underlying here, how often should you oil your hair? Let's figure this out together.
Just like your hair is different in types, the oiling schedule is different as well, but experts believe that oiling your hair 1-2 times a week is enough. Doing it every day will attract dirt and will leave your scalp greasy. Oiling can make your scalp relaxed for sometime but this can lead to more sensitive scalp that can lead to more hair fall. Your hair wants to be in a bit of a fix, so you don't need to oil your hair daily but you can definitely apply some oil on the weekends, at least.
With oiling, less is always more!
Once you've taken a generous amount of oil to apply on your hair, don't fill your scalp with oil. Instead, spread what you already have evenly so as to cover every strand. More oil means using more shampoo, and this in turn can strip your hair of its natural oils and moisture, leaving you with dull, damaged, and dry locks.
What Ingredients make an oil good for your hair?
There are both natural and manmade ingredients that have been proven scientifically to stimulate hair follicles and nourish hair from within. Some hair ingredients reactivate inactive follicles, others thicken individual strands, some speed up the growth rate and some extend the growth phase of the hair cycle.
So yes, in a nutshell, there are ingredients that can grow your hair. So here are some for a starter.
Rosemary- Rosemary oil is used to prevent premature graying and dandruff. It may also help dry or itchy scalp.
Lavender- Lavender will definitely grab your attention if you want to stimulate hair growth. Lavender oil helps hair also grow thicker and faster than normal.
Onion – Onion can take all your tears away. Using onion oil will effectively prevent and treat baldness. Onion oil is rich in sulfur which prevents breakage, split ends, and thinning of hair.
Green Tea- Green Tea contains catechin, which helps to reduce dihydrotestosterone (DTH), responsible for hair loss.
Peppermint, Garlic, Pumpkinseed, Marine proteins, Iron, Selenium, Vitamin E, Zinc​ !
There are so many with the science to back them up, that we can't list them all. Now that you're familiar with some of the ingredients that grow hair, Let's run through the best hair growth oil.
Pick the right hair oil to nourish your hair?
Unlike our skin, our hair has no way to keep itself moisturized. Our hair follicles produce sebum, a natural oil to keep the hair hydrated. Unfortunately, with modern styling and coloring techniques, our natural sebum often just isn't enough to keep hair moisturized. That's where a good hair oil comes in. No matter what hair type you have, you'll benefit from using hair oil. The only catch is that it should be formulated to meet your hair's specific needs.
Whether oil is good for your hair or not, depends on your hair type and the benefits you're looking for. However, Hair growth is what people mostly look for in hair oil and end up buying a usual Drugstore hair oil that comes out every day in the market promising longer, thicker hair overnight. If you've invested more than you'd care to disclose in these magic hair growth oils then what we are going to tell you may surprise you. All-in-one hair oils available in the market today are only efficient for a certain hair type and are usually too heavy for fine or oily hair. Remember, this may not help as you may end up with unwanted side effects if the oil doesn't contain balancing ingredients as per your hair needs.
Well, No Tears because we've got good news for you. Ravel Custom hair growth oil is the answer to all of your hair woes. At Ravel, we customize natural hair oils with ingredients targeting your hair type, needs, and goals. Ravel creates hair oil with you in mind. Each bespoke blend of oils gives your hair the attention it deserves. Ravel Hair growth oil will revive damaged hair. Our unique custom-curated hair oils are made of Lightweight carrier oils like jojoba butter that is perfect to add a little extra sheen to your locks and the Moroccan Argan oil, that is rich in fatty acids and vitamin E to provide much-needed moisture to parched locks.
Why Custom Hair Oil is the Only Answer?
Simply because oil behaves differently on different hair types. At the behest of powerful advertising lobbies, we have kept natural oils off the menu in our hair care regimen, despite their well-known benefits as an easy and rich source of nutrition. At Ravel, we selected a wide range of oils from the most lightweight to the most nutritive to ensure your hair needs. We can create a blend that matches your hair type and needs by going custom. Ravel gives you the promise to give your strands the touch of the best oils that Meticulously sourced and searched and are Sulphates, GMO's and Parabens free. With over 35,000 possible hair oil blends, you can be sure that your hair oil is as unique as you are. From our selected oils, yours will be a blend of oils specifically chosen to match your Ravel consultation and Quiz
Our Team studied many oils across the seven seas before landing on the best. At Ravel, we use ingredients that are enriched with the goodness of nature and have a positive social and environmental impact. Our scientists take into account the key factor of using the cleanest ingredients like Argan Oils, Olive oil, Bhringraj oil, Brahmi oil, Nutmeg oil, Avocado oil, Amla oil. Almond oil and the best, 100% vegan and cruelty-free ingredients and There's a lot to remember! This is why we have provided you a list of all the magical ingredients on the home page.
In a Nutshell, benefits of hair oils are prescribed as a blanket solution for everything from lifeless tresses, frizzy and damaged hair to stress relief. It's just a matter of finding the right elixir for you, then why not Ravel custom hair oil that gives you the finest customization with complete transparency in the products that we use while formulating the best hair growth oil for you. Interested in adding Ravel hair growth oil to your hair care routine? You can get them at your doorstep. With Ravel we are bringing to you organically sourced, personalized products with your name on the prettily packaged reusable bottle. Our hair assistance provides you constant follow-ups to make your journey to beautiful hair easier.
So, here's your Brahmastra. It's a time to kiss goodbye to frizzy, dry, and brittle hair with Ravel custom hair growth oil.
Written by: Shefali Gill