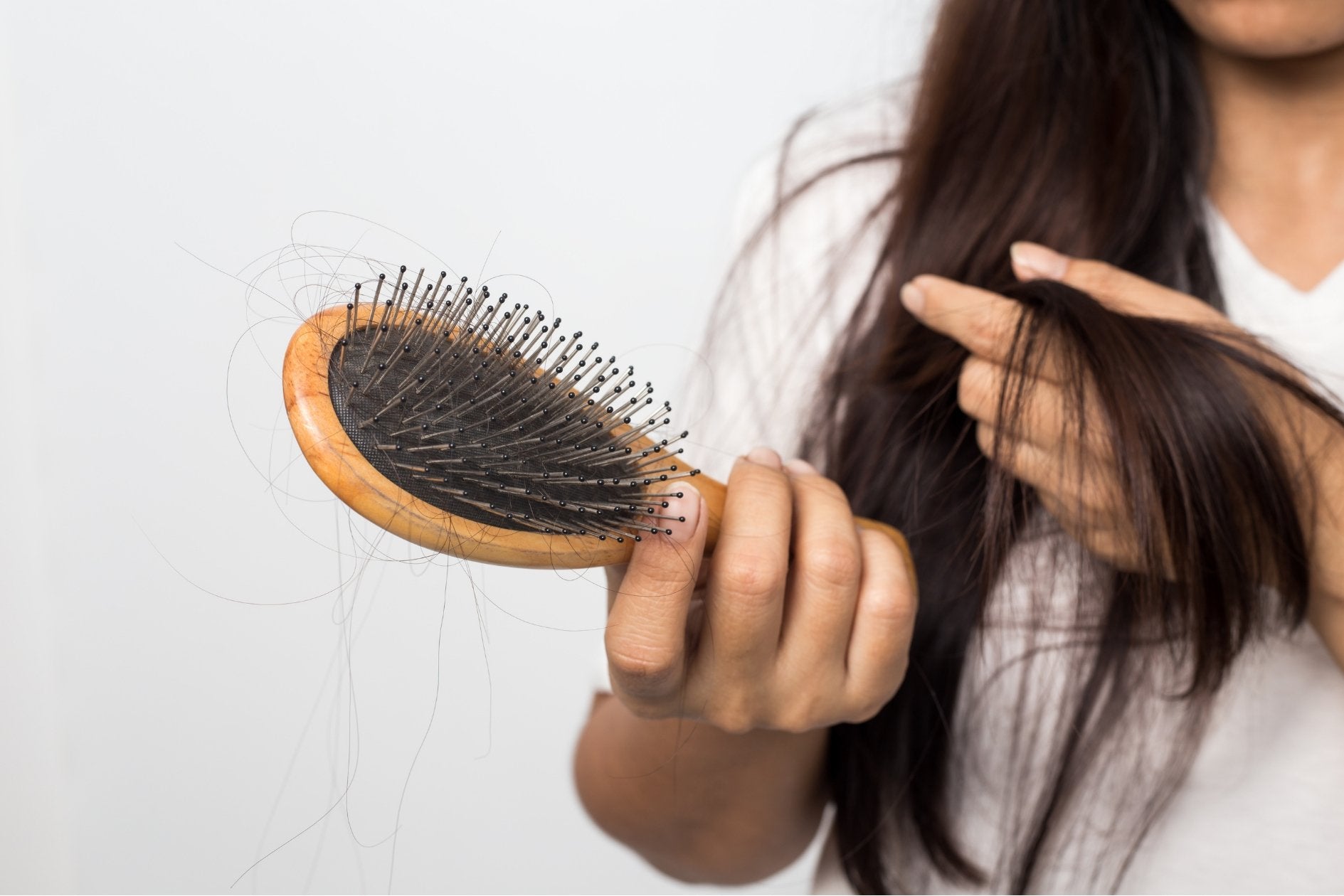 Strands Falling Out A Bunch? Put An End To Hair Loss With These Amazing Hair Loss Treatments!
You might have 99 problems, but hair loss shouldn't be one. Leave your hair fall woes right here, because we're spilling the tea on some of the best hair loss treatments ever!

Let's face it, we've all gone through a horrifying existential crisis whenever we've seen strands of hair falling everywhere. Hair loss is a real downer, and there's no second guessing there. If you've ever faced hair loss in your life, you know that sinking feeling and you sure as hell know about the panic attacks that follow. But hey, what do we say to all that stress? Not today bud, not today!

First things first, it's time to say goodbye to all your hair-loss related stress. Stress,can in fact be the biggest contributing factor that can stand in the way of any hair loss treatment, cause it's all in the mind, babe! Once you let go of all the stress, you'll quite literally make way for lesser hair loss and better hair growth. So breathe and let it all go, as we take you on a thorough hair loss treatment journey through this blog!

Now that we're a little calm, here's some assurance. Hair loss, is in fact, a very common occurrence among both- men and women. We all lose around 50-100 strands of hair per day and that is normal! As much as we'd love each hair strand of ours to be immortal, that's not how things are. Though there are numerous factors and stages in your life that might cause hair loss, there's always a possible explanation to it. The five most common ways to determine whether you're really battling hair fall are if you are experiencing:
Gradual thinning on top of your head, or in the areas where you part your hair.
Circular or patchy bald spots, anywhere across your scalp.
Sudden loosening of hair.
Full-body hair loss.
Patches of scaling that spread over the scalp.

This being said, if you see slightly more than around 100 strands falling out per day, or more than 200 if you're having a nice long head-bath, that might count as hair loss, but it can be tackled with the right hair loss treatments...most of which you'd find right here!

Once you see signs of hair loss, it's important to check out the best hair loss treatments in order to be less stressed, well informed, and timely in your hair care regimen. Your hair is our crowning glory, and you need to keep it that way, That is precisely where this info comes in. In order to make your hair stronger, healthier and less prone to hair loss, make sure you follow our remedies closely. Your hair deserves nothing but the best.
What Can a Blog Do For Your Hair Loss?
Enough with the grand statements, cause we want you to know truly how this blog might be the one for you!
If you've been battling hair loss, and are incredibly stressed about it, we're giving you the best tips that can help you out while actually showing you the results.
We're going au-naturale in our hair loss treatments. Nature has always been the best source of beauty, and we value that above anything else. If you want a natural angle to your hair loss treatments, this is the absolute best write-up for you!
Keeping all ages, and all factors in mind, we have custom curated each of these tips, just like we do with our hair care products.
Consistency is key, and your commitment to all the amazing hair loss treatments given below is all we need!
Lastly, you aren't in this alone. If you're feeling completely lost and need expert advice, this is the webpage you were destined to be at!
Now that we've created quite the anticipation for our stellar hair loss treatments, let's jump into what causes hair loss and how you can determine why your hair is really saying goodbye to your beloved little scalp.
Why in The World Is My Hair Loss Pestering Me: Causes of Hair Fall
Pregnancy, poor nutrition, sudden fluctuations in your weight as well as tonnes of hereditary factors can cause Alopecia, which, in less fancy words, means hair loss.This being said, it is important that you determine what's causing your hair loss, so that you can try and alter your lifestyle in order to make those hair loss treatments work their magic. Considering the fact that how you live and what you eat matters quite a bit, let's just check out what causes that pesky hair loss and how you can throw a curveball back at the universe for doing you dirty.
1. You Got It From Your Mama:
Hair Loss, in both- men and women, can largely be dependent on hereditary factors. This condition is commonly referred to as androgenic alopecia, male-pattern baldness and female-pattern baldness. It usually occurs gradually and in predictable patterns — a receding hairline and bald spots in men and thinning hair along the crown of the scalp in women. If this runs in your family, try taking extra care in keeping your scalp healthy and nourished from a young age.
2. Your Hormones Are in A Tizzy:
A variety of conditions can cause permanent or temporary hair loss, including hormonal changes due to pregnancy, PCOD/PCOS, childbirth, menopause and thyroid. Also, numerous medical conditions like alopecia areata, which is immune system related and causes patchy hair loss, scalp infections such as ringworm, and a hair-pulling disorder called trichotillomania can be the underlying cause of your hair loss.
3. Your Meds Might Be Interfering:
Hair loss can be a side effect of certain drugs, such as those used for cancer, arthritis, depression, heart problems, gout and high blood pressure. At times, this can be momentary if you're taking a week-long dose or antibiotics to ward off an illness. Wait it out for a bit or ask your doctor for alternatives.
4. Stress-Induced Hair Loss:
A stressful event or situation can trigger hair loss. Many people experience a general thinning of hair several months after a physical or emotional shock. This type of hair loss is temporary. This is one of the most important and pesky little causes that can wreck not only your hair, but other bodily functions as well. Be it over a relationship, a job, or a particular incident, nothing is worth all that stress, and we couldn't stress that enough (pun-intended). Make sure you let go of all that stress you're holding in, cause that might be a major reason as to why your hair is falling out.
5. Chemicals, Treatments and Troubles:
Excessive hairstyling or chemical hair treatments can damage your hair by stripping it off of its nutrients and inducing chemicals into your roots and scalp. Try laying off of chemical treatments or limit the amount of times you get them done.
6. Tight Hairstyles:
Hairstyles that pull your hair tight, such as pigtails or cornrows, can cause a type of hair loss called traction alopecia. Hot-oil hair treatments and permanents also can cause hair to fall out. If scarring occurs, hair loss could be permanent.
7. Scalp Infections and Psoriasis:
A scalp infection can lead to scaly and sometimes inflamed areas on your scalp. You may see what look like small black dots on your scalp. These are actually stubs of hair. Some people develop a bald spot. Many people who have plaque psoriasis develop psoriasis on their scalp at some point. This can lead to hair loss.
8. Vitamin Deficiencies and Poor Nutrition:
If you've gone on a diet recently, you might be seeing more hair loss than usual. Alternatively, if you maintain a balanced intake of food, whilst eating right, the hair loss can be reduced. Furthermore, if you're not getting enough Biotin, Iron, Protein or Zinc from your diet, that may also be a major cause.
9. Vices Don't Always Play Nice:
Chain smoking and frequent consumption of alcohol can also spell bad news for your scalp health, hence leading to a more visible hair fall. Try limiting your intake of these substances or say goodbye to them one and for all! Apart from these known vices, make sure you keep tabs on your diet. Indulging in unhealthy and junk food day in and day out can also be another vice that doesn't really play nice, especially when it comes to your skin and hair.
10. Absence of Hair Care:
It's always a give and take, bud! If you don't invest at least a little bit of time and energy into your hair care regimen, it might mean hair loss for you. Taking care of your hair is not vanity. Doing the bare minimum can also go a long way! Feed your hair just as you feed your mind!
No More Strands Across The Floor: Best Hair Loss Treatments You Must Know
Now that we gave you all the intel that we have on the causes of hair loss, let's get to how you can put an end to that fallout once and for all. We know you've had enough of those daily reminders with strands of hair just laying there, every step you take, so step up and take charge, cause we're here now! These are a bunch of some of the ultimate hair loss treatments you absolutely must know and practice, in order to welcome a head full of hair, with no strands quitting on you!
1. Your Scalp Needs To Eat:
Yep, you read that right. If there's anything that leads the way to a healthy scalp, it's oil. Oiling your hair using the most effective blends can really take you a long way, when done right. Try finding an oil that targets your hair loss, or blend some oils at home, for the best blend custom curated for you, you know where we're at (wink, wink). Anywho, once you know what oil blend you need to use, make sure you get into the habit of oiling your hair at least once or twice a week. When you do this, massage the oil into your scalp with your fingers, applying slight pressure in order to get the blood flowing. Make sure you keep those acrylic nails away though.
2. Lay Low:
Try minimising or steering clear of chemical hair treatments. If you're into the habit of getting your hair colored, straightened, permed or rebonded, try minimising the number of times you get these treatments in a year. Moreover, if you get any of these treatments done, try limiting them to one at a time, because a mix and match can only mean more damage.
3. Choose The Right Weapons:
Hair loss literally means that your hair aren't holding on, ergo, it's getting weaker by the day. In such a scenario, make sure you use shampoos and conditioners that are mild, strengthening, nourishing, and most of all- natural. The lesser the sulfates and phthalates, the better! Make sure you wash your hair with your preferred shampoo and conditioner, at least twice a week, whilst being gentle during the regimen. Don't tug and pull your hair in the bath, and make sure the water you're using is lukewarm.
4. Lose The Tight, Welcome The Loose:
As much as a tongue-twister that sounds, tight hairstyles are nasty hairfall inducers that pull your hairline back by stressing out your roots. Try switching to hairstyles that aren't as tight, hence giving your hair some space to breathe. Try leaving your hair open when you go to bed, or while you're at home, and make it a point to wear hair elastics and bands that aren't too tightly wound.
5. Check Your Internal Status:
Yep, making sure everything is well inside your body is a crucial aspect in determining your hair loss treatment. Once you're aware of the fact that your hair is falling more than usual, go and run some tests. This will help you or your doctor figure out whether you have any deficiencies or imbalances in your blood or system. Take necessary supplements according to these deficiencies, and make sure your natural diet incorporates a lot of protein and vitamin rich foods.
Some of the best wholefoods to consume for hair loss treatments include:
Spinach, Eggs, Dairy, Walnuts, Guava, Lentils, Avocado, Barley, Flaxseeds, Chicken, Carrots, Citrus Fruits and more.
6. Calm Down:
We couldn't emphasize this more….stay calm, lose the stress. Make sure you don't freak out over losing your hair constantly, and try to de-stress from all your daily woes. Try doing something you like or engage in an activity that brings you joy. Get your daily dose of physical activity and workouts in, and remember to calm down, relax, and breathe! Once you win the fight in your mind, you automatically win it in your body!
7. Get Set To Tolerate Some Onion:
Onions are the absolute best, when it comes to hair loss treatments. Onions have a high concentration of sulfur that helps with numerous hair conditions that cause hair loss. It helps improve blood circulation to the hair follicles, regenerates them and minimizes inflammation. Several researches conducted on hair fall have established that onions contain great healing properties. These are effective in treating conditions such as androgenic alopecia or female pattern baldness. All you gotta do at least once a week, is extract the juice of an onion, apply it on the scalp and leave it for half an hour. Wash it off with water and then shampoo your hair. Ta-da!
8. Lemonade to the aid:
Okay, so you don't need to drink or apply lemonade on to your hair, but here's what you need to do. Grab a juicy lil' lemon and squeeze all of the juice out of it. Once you gather the juice in a bowl, apply it to your scalp with your fingertips and wash it off with your shampoo after around 15 minutes. This helps restore your hairline in case you've lost most of your hair near there!
Your Hair Guardian: The Best Shampoo For Your Hair Loss
Now that you're on your way towards taking these hair loss treatments seriously, there's just one thing that's left to do. Your shampoo is really the MVP in your hair care regimen, and it HAS to be perfect for you. If you're wondering how and why we happen to know so much, the answer is simple. At Ravel, we absolutely love your hair. Everything we do at our facility, we do it out of the sheer care and concern that we have for your hair and the last thing we do is typecast you.
Our unique custom curation of products gives you the chance of finding a hair loss treatment that makes sense to you, since it's specifically made keeping your hair problems and goals in mind.
Our tailor made shampoos are not your average drugstore 'one size fits all' products. They are carefully sourced from some of the best ingredients that mother nature has to offer, for the sole purpose of bettering your hair, and yours only. Free from the clutches of harmful chemicals like Sulphates, GMO's and Parabens, our Shampoos are made using a unique blend of ingredients based upon a small little quiz that you need to go through, to tell us how your hair are, what problems you've been facing, how your lifestyle is, and what your hair goals are. When you come to look at it, what we create isn't just a shampoo, it is a magical potion that helps grant you the best hair loss treatment.
At Ravel, our naturally-sourced ingredients harbour myriad of amazing benefits for your hair. Coming to the best hair loss treatment, there are certain natural ingredients that can work wonders in regrowing lost hair when used regularly. Some of these magic ingredients that we completely trust for our products include: Amla Extract, Kaolin, Lotus Extract, Majistha Extract, Nutmeg Oil, Seaweed Extract, Sea Satin, Turmeric Extract, and many more!
To sum it all up, battling hair loss with the best hair loss treatments and products is something you really need to get a headstart on, when you start experiencing signs of considerable hair fall. To de-stress you a little more, Ravel pledges complete transparency in the products that we use to concoct your ideal hair fall shampoo. Our hair care assistance doesn;t just end here, once you get your custom-curated product at your doorstep, we ensure constant follow-ups that help us make things easier for you. We are here with you every step of the way, so take a deep breath, stay positive, and let's combat that hair loss together!