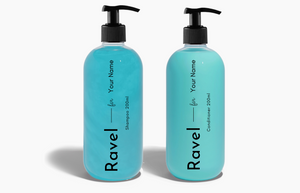 Science-backed clean ingredients
Every product at Ravel we formulate is free of sulfates, parabens, GMOs, mineral oils, and is always cruelty-free.
We care for your hair
It's high time you need to give up all those Chemical filled products and start providing your hair the care and love they deserve. Our Natural ingredients preserve the natural beauty of your hair with a Promise to serve your crowning glory. The right product can do a lot more than what you believe. Any hair type you have, Brown, black, blonde, flashy highlights, poker-straight hair, or even those gorgeous curls, we will make you fall in love with smooth hair, slightly touching your face all over again.
Here's what we use
Every product at Ravel we formulate is free of sulfates, parabens and free of phthalates. We believe in keeping the promise of providing premium quality products. This is why we use 100% vegan ingredients and are always cruelty-free. To make the customization more effective we use the best natural ingredients that will give back to your hair.
VIEW FULL LIST
A Product that changes with you
We are strong crusaders of clean beauty, and with a league of ever-evolving and restless beauty professionals on board. Our Premium quality shampoo is thoroughly customised to suit your hair goals and preferences. Our customization provides you the opportunity to choose the formula that changes with you and your lifestyle.
Recommended use
Wet your hair with warm water, make sure you fully soak them into water. Apply a pea size amount of shampoo all over your hair in a circular motion. Lather it at roots and then work it through the ends. Rinse your hair with cold water.
Great for
Ravel shampoo can be used for all hair types and sizes. Each product of Ravel is recommended for all hair types. We formulate products to address your unique hair goals and your needs because Great style starts in the shower.
Shampoo & Conditioner Set
The shampoo and conditioner have been working verging very well. The waves of my hair have become defined and hair has become smooth. Also hair fall has decreased significantly.
Shampoo & Conditioner Set
Requirement of follow up.. not great..
Was promised a call back.. unfortunately the words in your letter in the box was not matched with kind enough action. The product is good no doubt but you need to explain how to use it clearly.. please check my whatsapp direct messages whenever convenient for you guys.
Got questions?
Why personalization

Because all this while we had to buy products we had no control over. Mass produced products cater to everyone and serve no one. With personalization, we are prioritizing each individual so that you get exactly what your hair needs.

What if I am not sure what hair goals should I select?

We are here to help. Just give us a call on abcd or drop an email on care@ravelhair.com and our experts will be more than happy to help you.

What ingredients are used in your products?

At Ravel we source the finest natural and clean ingredients from all across the world that meets our quality standards. For completelist of ingredients used please click here.

Do you use Sulphates, parabens, silicones?

No, we are very particular about what goes in your product. None of the products contain any harmful ingredients. For the complete list of ingredients that we don't use click here.

What if I am not satisfied with my order?

Just drop us a mail with details on care@ravelhair.com and we'll replace the products. For return policy, click here.

How do I place my order?

Click here and answer a few questions about your hair, then select the products of your choice followed by your address information and payment preferences. You can also call us at +91-8779206822 to place the order.

What are the payment options available?

Debit Card, Credit Card, Paytm wallet, UPI

What if I want to make changes in my order after placing it?

If you want to make any changes in your formula, your address or any other details, just drop us a mail at care@ravelhair.com or call us on +91-8779206822 and we'll be happy to help.

How much does shipping cost?

We offer free shipping on all our orders.

How many days it will take for the order to reach?

Our scientists take 2 days to create your products. Once, your product is ready it should reach at your doorstep in 4-5 working days approx.

How can I track my order?

You will receive mail after we are done formulating your product. next, we will update you once the product is shipped.

How do I know my order is being delivered today?

On the day of your order delivery, you will receive notification from our shipping partner and the delivery person will contact you.