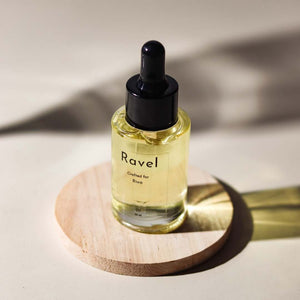 Science-backed clean ingredients
Every product at Ravel we formulate is free of sulfates, parabens, GMOs, mineral oils, and is always cruelty-free.
We care for your hair
A gentle Reminder, we care for your hair, yes we do, that is why we provide the products that preserve the natural beauty of your hair with a commitment to serve your crowning glory. Ravel provides natural hair care products that are just made for your hair. Let your luscious and healthy mane rest in the arms of nature.
Here's what we use
At Ravel we use 100% vegan ingredients. Each product is made up of ingredients that have been carefully tested by our scientists to ensure safety and quality because we believe in providing you intensive care and love. Let's see what our experts have to offer.
VIEW FULL LIST
A Product that changes with you
We understand your needs. This is why we are strong crusaders of clean beauty, and with a league of ever-evolving and restless beauty professionals on board, we keep innovating products based on your needs and your valuable feedback. Our Premium quality oil is what your hair deserves. Our customization provides you the opportunity to choose the formula that changes with you and your lifestyle.
Recommended use
Hair oils have been used to stimulate hair growth for generations. But oiling hair in the right way is what we need to learn. Levelling up your scalp will do nothing good to your hair. Gently massage your oil into the scalp for a few minutes. Always use circular motions to gently rub the oil into your scalp. Keep massaging for 10-15 minutes and then you're good to go.
Great for
You might have heard your grandmother raving about the benefits of hair oils. Our products are made especially for all types of hair. Oily, dry or combination hair, we have a solution for all your hair requirements.
Got questions?
Is custom hair oil suitable for all hair types?

A big Yes, Every hair type must reap the benefit from customized hair oil. Customized hair oils provide just the right amount of hydration and nutrition without weighing down your strands.

How should I use Ravel hair oil?

If used properly, hair oils can do wonders. You can use hair oil before washing your hair you can even use it after shampooing to provide nourishment to dry hair. The best way to apply the hair oil would be to massage your scalp with your customized oil and wrap your hair with a hot towel or sit under a steamer. Oh! How can we forget grandma's hair champi! You can use it that way too.

How much hair oil should I use?

Let your hair length decide the amount of hair oil you should use. You can use 1 to 2 pumps if you're slaying short hair style. For flaunting longer length, 3 to 4 pumps would be enough.

Is custom hair oil safe for those with allergies?

Each custom hair oil contains a blend of highly effective oils. To see if custom oil can work for you, feel free to send us a note with your specific allergy concerns at hello@ravelcare.com.